Product
What is it ?
XlcontactImport is an app dedicated to import your contacts datas on your Android smartphone using a formatted Excel file as an input. It can be used as :
a contacts restore solution
an alternate solution to migrate the data from one android device to another, used conjointly with sister app XlContactImport
...or a solution to refresh painlessly your contacts data, used conjointly with sister app XlContactImport. That's my own favorite use now.
Try it using
the sample file available here
! It contains a few test lines for a few contacts.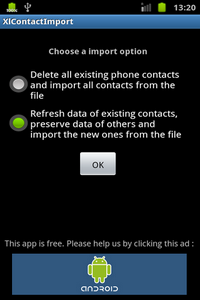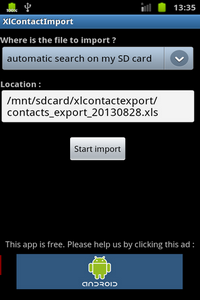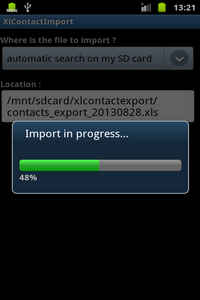 Originally, I conceived this solution in order to solve many problems that I had with my contacts datas, spread between multiple email contacts databases on different mail websites (some without syncing options…), around 100 phone contacts entries on my previous phone and even an old paper booklet with phones numbers ! I wanted to centralize all the data on my smartphone, keep it private (no phone number list of my friends on the web, please !), edit it, add data quickly and easily (I'm not good at taping fast on a touchscreen device…) and, top of it, get rid of the multiple syncing problems I had encountered with my smartphone (cut numbers, lost contacts, etc…). So, I came to the idea of a combination of 2 apps to do the job. Maybe this app will help you too ! (if you want to know, yes, I got rid of the old booklet and the old phone device)
And how ?
XlcontactImport use a formatted Excel file containing your contacts datas as an input, where :
each column reflect an information type. The data currently managed by the app are : person name, phone number data, contact account data, contact group data, note, favorite, email address data, instant messaging address data, postal address data, organization data, activity data, event data (birthdays...), website data, nickname data, relation data, SIP address data, structured name data
each row reflect a person or a segment of the person data (for example : one line for the home datas and one for the work datas)
The import excel file must uses the classic Excel format (.xls / Excel 97 – 2003) which can be edited using old and current Microsoft Office suite on computers, and alternatives like OpenOffice, or
Thinkfree, Document to go, AlwaysOnPC and several others
on the Android platform. The current Excel format (.xlsx) is supported in the pro version of this app (see below).
XlcontactImport can look for an input file on your phone SD card, download it automatically from a website or a FTP site. Download from a Dropbox Account is also available with the pro version of the app.
Others features of this app
automatic search for an excel file (that could be used as an import file) on the sd card
automatic creation of a specific path
two import modes : "replace all" mode and "append" mode for daily use
in "replace all" mode, if asked, can delete all contacts entries before importing (feature secured with a confirmation dialog box)
direct import of the Excel input file from the SD card, a website, a FTP site (or a Dropbox Account, with the pro version of the app)
trace mode to help the report of strange errors on data import on specific phones
Versions
"XlContactImport" has been released in two versions :
a free version, with all essentials functions. This version contains ads under standard banner form.
a paid pro version, with no ads, and new functions for advanced users :

Xlsx format support !
Dropbox support !
Improved work speed !
Do not hesitate to try first the standard version, before purchasing the pro version !
Users of the app before version 1.1.0 : please read what has changed beginning with version 1.1.0
here
.
Compatibility
XlContactImport has been tested on Android 1.6, 2.x, 3.x, 4.x, 5.x, 6.x, 7.x, 8.x, 9.x devices. Tests on Android 10.x are currently in progress, but as the early results show, the app should work fine too.

The current version of XlContactImport is designed to work on 2.3.x (and above) devices, but a older compatible version with Android 1.6, 2.0.x, 2.1.x and 2.2.x, with all the main functions, is still available when you download the app from Google Play.
Permissions needed
Here are the permissions needed on your device in order for this app to work properly :
android.permission.INTERNET
android.permission.ACCESS_NETWORK_STATE
android.permission.WRITE_EXTERNAL_STORAGE
android.permission.READ_CONTACTS
android.permission.WRITE_CONTACTS
Download
Download the latest version of this app on Google Play, the new incarnation of the Android Market.
And after the download ?
I suggest you to read the tutorial, which use the sample file available, to learn more about the format.
Future of the app
Improvements and new features will come with future versions (I already have some ideas to design), but do not hesitate to contact me if you have ideas that could improve this app.
Important note
THE SOFTWARE IS PROVIDED "AS IS", WITHOUT WARRANTY OF ANY KIND, EXPRESS OR
IMPLIED, INCLUDING BUT NOT LIMITED TO THE WARRANTIES OF MERCHANTABILITY,
FITNESS FOR A PARTICULAR PURPOSE AND NONINFRINGEMENT. IN NO EVENT SHALL THE
AUTHORS BE LIABLE FOR ANY CLAIM, DAMAGES OR OTHER LIABILITY, WHETHER IN AN
ACTION OF CONTRACT, TORT OR OTHERWISE, ARISING FROM, OUT OF OR IN CONNECTION
WITH THE SOFTWARE OR THE USE OR OTHER DEALINGS IN THE SOFTWARE.